The Gravel Bar & Grill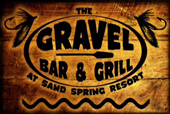 Order from our menu and you're sure to find something you like! We can also provide boxed lunches for your picnic or float trip excursion.
Monday-Friday: 11am.
Saturday and Sunday: 8 am from Memorial Day to Labor Day.
We are also open the second weekend in November for the opening of Catch and Release season.
Closed the rest of November-February.
Proudly serving Hunt Brothers Pizza.
Our Menu includes...
Breakfast
Appetizers
Burgers
Salads
Baskets
Wraps
Sandwiches
Soft Drinks
Coffee & Cappucino
Kid's Menu
Desserts